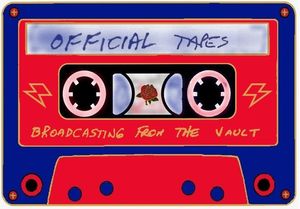 Dell Furano, concert merch pioneer, joins the great jam in the sky at the age of 71. Furano got his start with rock promoter Bill Graham and later co-founded Winterland Productions. His companies made hundreds of deals, from T-shirts and hoodies to Madonna's skincare products, Celine Dion's handbags and Kiss' wafflemakers. Furano got his first gig under the recommendation of the Grateful Dead. When it came to T-shirt concerns, the saying was: "Go talk to Dell." 
We hear something from a show that had the early days of "Shakedown Street" - the show outside of the show. . . 
After being shut down for 18 months because of the pandemic, live music will soon be heard once again at the legendary Capitol Theatre in Port Chester, New York. 
The venue's owners, staff and fans came together today to celebrate the upcoming reopening with the sign on the marquee saying it all: "The Cap is Back!" 
The Capitol Theatre reopened after a year and a half with a free show featuring a Grateful Dead tribute band. We hear the originals play the Cap this week! 
Grateful Dead drummer Mickey Hart was a featured guest on PBS NewsHour. The Rhythm Devil appeared to discuss his drone trio and how they are working to heal people with music. We hear Hart discuss cognitive musical therapy and get what the doctor ordered. . . Good Lovin' 
The Set List. . . 
Friend Of The Devil 9:38 
1979-12/26 OAKLAND AUDITORIUM, Oakland, California 
Dick's Picks Vol. 05 
One More Saturday Night 4:59 
1974-10/19 WINTERLAND ARENA, San Francisco, California 
The Grateful Dead Movie (DVD) 
Next Time You See Me 4:40 
1971-02/21 CAPITOL THEATER, Port Chester, New York 
Workingman's Dead [50th Anniversary Deluxe Edition] 
My Brother Esau 5:36 
1983-04/26 THE SPECTRUM, Philadelphia, Pennsylvania 
Dave's Picks Vol. 39 
Playin' in the Band 6:56 
Live at the Fox Theatre St Louis MO 12-10-71 
Listen to the River - Single 
Good Lovin' 17:48 
1971-07/02 FILLMORE WEST, San Francisco, California 
Skull & Roses 50th Anniversary Edition